Posted September 1st, 2018 at 12:07 amComments Closed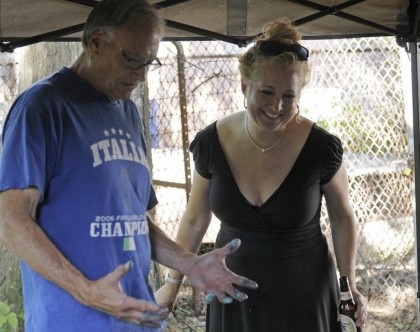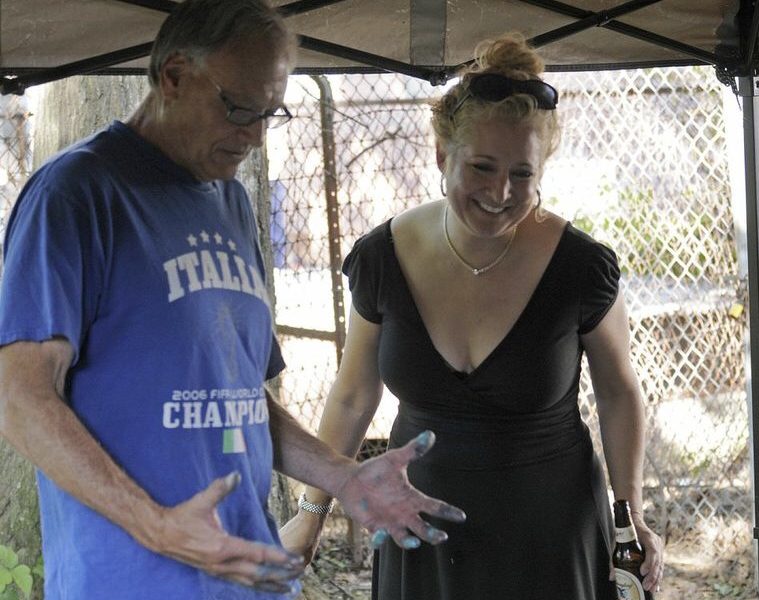 Today we'd like to introduce you to Melanie Rolfes and Michael Zavison.
Melanie and Michael are a collaborative team. Abstract artists who met eight years ago. They've blended their individual styles into a very sophisticated contemporary statement. Michael was born and raised on the south side of Chicago. He began his career with Marshall Field and company in the interior design department. There he gained valuable visual experience as an installation coordinator. He went on to found his own company and designed and manufactured his unique line of wall coverings. This led to custom commissions from individuals and corporations such as Sir Elton John and Coca Cola.
Melanie was raised in Europe, moving from country to country she was exposed to many of the great art museums. She knew early on that she would be involved with some form of visual art. She then moved to California where she was educated and trained. Michael and Melanie now live in Mid Town Atlanta where they live and work at The Goatfarm Art Center.
Can you give our readers some background on your art?
As abstract artists we pose a difficult challenge for ourselves: like trying to speak without using vowels or consonants. Our quest for the work is huge, spiritual, pure; by design, our reach well exceeds our grasp. In creating an abstract piece, we dispense with figuration, perspective, and anything identifiable as subject matter. Some might say that leaves you with little; we might say that leaves you with everything. The artwork becomes a confluence of space, color, form, and our psyche. It is totality.
Our work is true mixed media. Freedom to work with any material is a perpetual joy. At this time, we are experimenting with cold rolled steel. Steel is considerably more substantial than canvas; both spiritually and physically.
Any advice for aspiring or new artists?
Really it is no different than any other business that you start. All principles of success apply. Never quit. Put your work and yourself out there. Don't be afraid of criticism or failure. They are both important teachers for your success.
What's the best way for someone to check out your work and provide support?
Zavison Rolfes art work is exhibited across the country and their gallery in Midtown Atlanta, GA. They will be showing in the Chicago area at Hinsdale IL June 9th and 10th 2018 and Highland Park IL August 25th and 26th 2018. You can see a full schedule on their website of events, zavisonrolfes.com.
Contact Info:
Address: Zavison Rolfes
The Goat Farm Arts Center
1200 Foster St NW
Atlanta GA 30318
Website: zavisonrolfes.com
Email: melanie@zavisonrolfes.com
Instagram: @melanierolfes
Facebook: Melanierolfesleonard